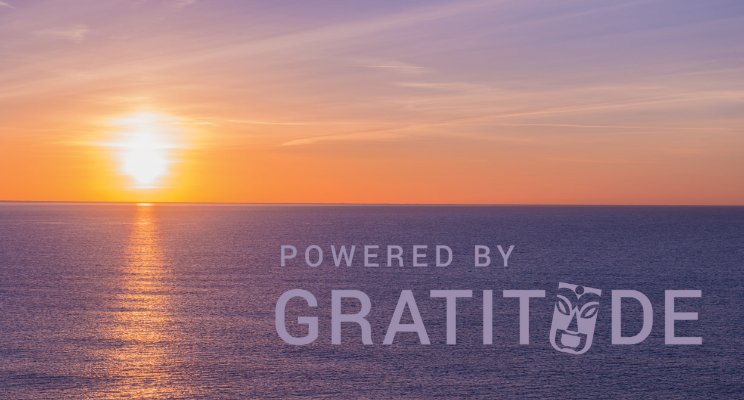 The start of a new year is the time we decide to turn a new leaf, start a new habit, break an old one, or generally change our lives for the better. And this year is no exception. Mahalo Digital is ringing in 2018 with a continued commitment to appreciation – for our work, our clients, our community, and the world around us. To this end we've coined our own company tagline: Powered by gratitude. While gratitude is certainly not a new topic at Mahalo Digital. this year we've resolved to take it to a new level.
In 2018 we're dedicating an entire segment of our strategic plan to living and spreading gratitude. Our key thrusts include the following: Evolving our client appreciation efforts (what we call client love), owning the entire month of November, and committing to be the change we want to see in the world.
We have a longstanding tradition of sending small tokens of appreciation to our clients. This year's gift is a nod to our great clients, who we enjoy working with when they're hot, or when they're chilling. (Get it?) But in 2018 we're committed to more personal and regular touch points, recognizing birthdays and other moments that matter. If you haven't seen your face photo-shopped onto a go-go dancer, Chewbacca, or Steph Curry, then you've got another thing coming.
November is traditionally known as the month of thankfulness, and Mahalo Digital is here, eleven months out, staking our claim to it. You'll have to stay tuned to find out what we have in store, but you can count on gratitude-focused content on our blog and other channels, a countdown to the big (Thanksgiving) day, and of course, our continued customer appreciation gifting tradition.
One major benefit to a gratitude practice is that it makes what you have feel like enough. And at Mahalo we know that not only do we have enough for ourselves, but we have more to share. In 2018 we'll be sourcing great causes to get involved in. We're looking forward to committing both our time and money to truly making an effort to be the change we want to see.
The New York Times journalist David DeSteno explores new research on the benefits of gratitude in his December 2017 article, "The Only Way to Keep Your Resolutions." The research shows that growing and practicing one's social emotions, of which gratitude is one, is much more effective than willpower at helping us stick to our commitments. Social emotions are the tools evolution gave us for success, writes DeSteno, but the problem is that we're ignoring them. "These are the emotions – things like gratitude and compassion – that support the positive aspects of social life. Unlike reason and willpower, [social emotions] naturally incline us to be patient and persevere." writes DeSteno.
We didn't need any new research to tell us that our commitment to gratitude is wholeheartedly worth it. But we'll take it.
In a recent roundtable discussion at the office Mahaloans reflected on the question, "Why gratitude?" Our answers revealed that the power of a positive habit is a real game changer. It takes away the ability to fixate on the bad, provides an escape on a long commute, allows for peaceful and meditative time each day, and shapes our perspective on everything else that gets thrown our way. Ultimately, it reminds us that we are here because of our clients, without whom we wouldn't have a business we love. The power of a positive spirit is contagious, which we believe keeps them coming back.
This year we at Mahalo look forward to forging deeper connections through hard work and dedication to our clients, but also to forming new ways to connect, share and give back. Our 2018 key thrusts are our way of renewing and reigniting these most important relationships. We look forward to our 2018 endeavors and the positivity and continued appreciation that we hope to cultivate along the way.