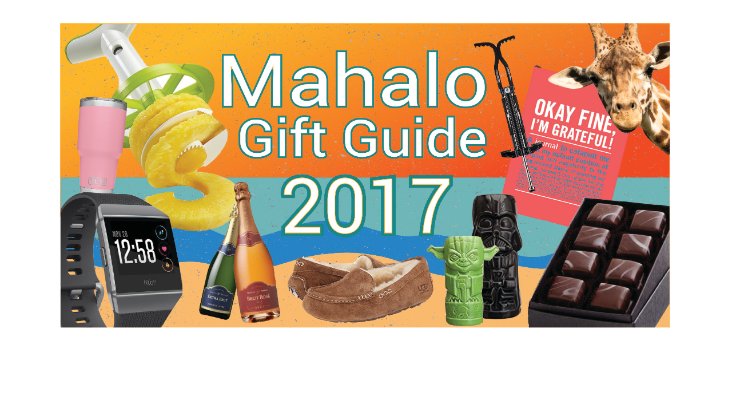 True to the Mahalo spirit, we love to give gifts. This year we've rounded up our favorite ways to show appreciation to family, friends and everyone on our holiday list. We hope this will inspire you to embrace and share an attitude of gratitude throughout the holiday season.
Reflecting on 2017 has given us ample reason to count our blessings. The incident that hit closest to home (literally) was the Napa and Sonoma fires this October. After witnessing weeks of devastation to homes and lives we are so thankful to the brave firefighters and rescue workers that worked tirelessly day and night.  To show our thanks and appreciation for the beautiful wine country in our own backyard, we've donated to the Napa Valley Disaster Relief Fund.
Napa Valley Vintners (NVV), the authority on all things wine country, has been a longtime client and friend of Mahalo. NVV's mission is to promote, protect and enhance the Napa Valley, and we are grateful to be able to support them in their effort to restore the livelihood of those affected by the fires. If you'd like to donate to the fund, you can do so here.
We've rounded up the gifts we're giving this year (in addition to gratitude), and hope they'll inspire your holiday gifting:
In the Bay Area? Give the gift of a local experience. The whole family will love an excursion to Safari West, the Sonoma wildlife foundation that just reopened after the fires.
Plan a visit to one of our favorite spots in the heart of Sonoma Square: Walt Wines.
In honor of our company name and our favorite place on earth, here are our Hawaii-themed gift picks:
For the oldie-lover: Mahalo from Elvis
For the friend that has everything: Geeky Tikis
For the cocktail connoisseur: Pineapple peeler
A You Had Me At Aloha print for the creative.
Our favorite digital gifts include:
Game of Phones for the one who can't part with their cell for a second.
Tile, for your (adorably) forgetful friend.
Even in this digital world there's sure to be a commuter on your list who needs a Yeti Rambler.
Indulgent gifts for the hostess, coworker, or whomever:
For the hostess with the mostest: A bottle of bubbly from Sonoma's Gloria Ferrer
For the sweetheart: A great box of Chocolates
Gifts for the leisure lover, no matter their level of activity:
For the outdoorsy type: A Patagonia pullover
For the book worm: Brene Brown's Braving the Wilderness
For the goal-oriented family: 1000-piece puzzle
For the workout fiend, or New Year's resolution enthusiast: FitBit Iconic
For the active kid or the young at heart: Pogo Stick
For the one with perpetually cold feet.
And for anyone who may like to grow their gratitude practice: A witty gratitude journal
Happy Holidays from Mahalo Digital!