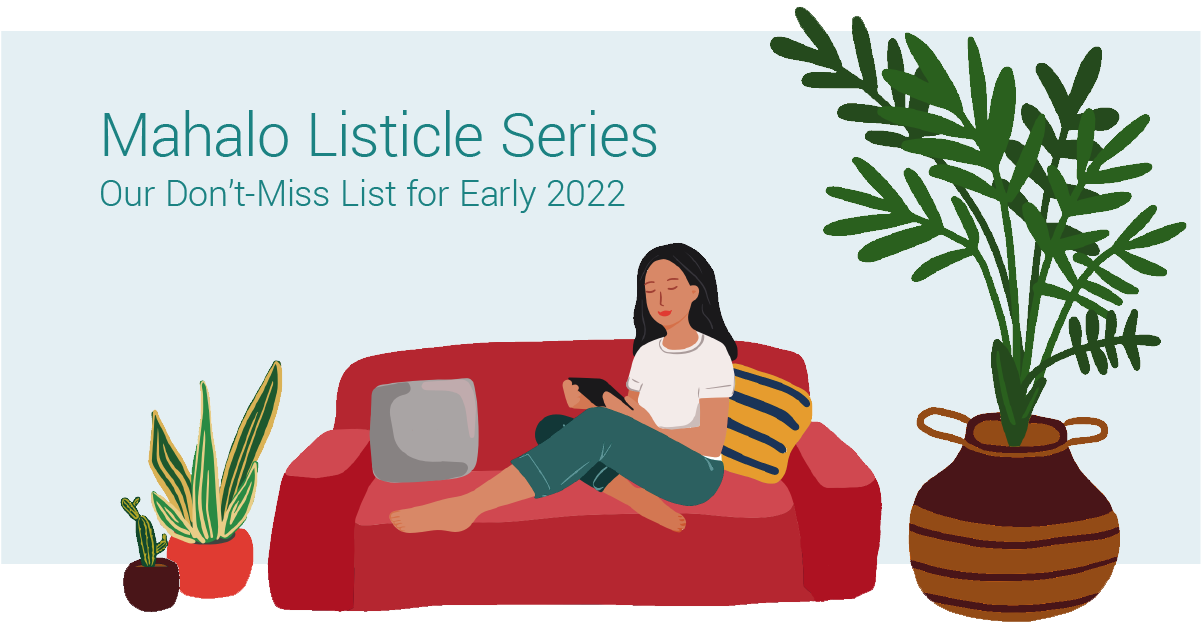 It's that time of year again. Our twice-yearly list of great stuff we can't wait to tell you about is here. This is always a fun exercise for us so without further ado, here's what's been floating our boats lately. Let us know if we've turned you on to something you love!

Archive 81
This suspense series jumps between the present and the 90s—through the lens of a grad student's documentary series—to reveal the goings on of a mysterious cult.
The Book of Boba Fett
Dave Filoni, with his arm-length list of successes such as Avatar, The Last Airbender, and The Mandalorian, knocks it out of the park again with this series following Boba Fett after the events of The Return of the Jedi.
Joe Montana: Cool Under Pressure
He's a Bay Area legend…and it's a great walk down memory lane to watch football in the 80s and 90s.
Kids Baking Championship
For mindless, feel-good Monday nights.
The Legend of Vox Machina
With a 100% on Rotten Tomatoes, this Dungeons & Dragons game-turned-TV-show blends humor and fantasy-adventure and features the original players as the voice cast.
Ozark
Jason Bateman shines in the 4th season of this show about a middle-class family serving as money launderers for a major drug cartel.
Star Trek: Prodigy
Nickelodeon's animated Star Trek outing is adventure for the whole family.

Don't Look Up
This dark comedy examines how our society reacts (or doesn't react) to impending disaster.
Encanto
Lin Manuel Miranda's songs shine in Disney's tale of a magical (and a bit dysfunctional) Colombian family.
Pig
Starring Nicholas Cage and directed by Michael Sarnoski, the story follows a truffle hunter in rural Oregon who returns to Portland to track down his stolen pig.
The Power of the Dog
A beautiful movie with a surprise ending is sure to win some Oscars.
Queenpins
A real sleeper based on a truly unbelievable real story. Plus, Kristen Bell always delivers…and Vince Vaughn surprises with a memorable supporting role.
The Tragedy of Macbeth
Gorgeously shot. Brilliantly acted. Creepy and cool. Pro tip: Watch with subtitles on and the Shakespearean language is a cinch to grok.

Eye on College Basketball (Podcast)
With March Madness inbound, Garry Parrish Jr. and Matt Norlander dissect the current basketball landscape in their own unique, outlandish way.
Hadestown (Cast Album)
The classic tale of Orpheus & Eurydice updated for new audiences took the Tony for Best Musical in 2019.
Worklife (Podcast)
This podcast is all about the science of enjoying work, where we spend one-quarter of our lives.
Sting: The Bridge
Back in form as the Sting we know and love.
Vince Staples: Vince Staples
Pitchfork.com says: "Produced entirely by Kenny Beats, this self-titled album's reserved musical approach magnifies the blunt scene-setting Vince has used to build his name over the last decade."
Licorice Pizza (Soundtrack)
An homage to the 70s that uncovers some rare gems and introduces more than a few songs you wish you'd heard back in the day.