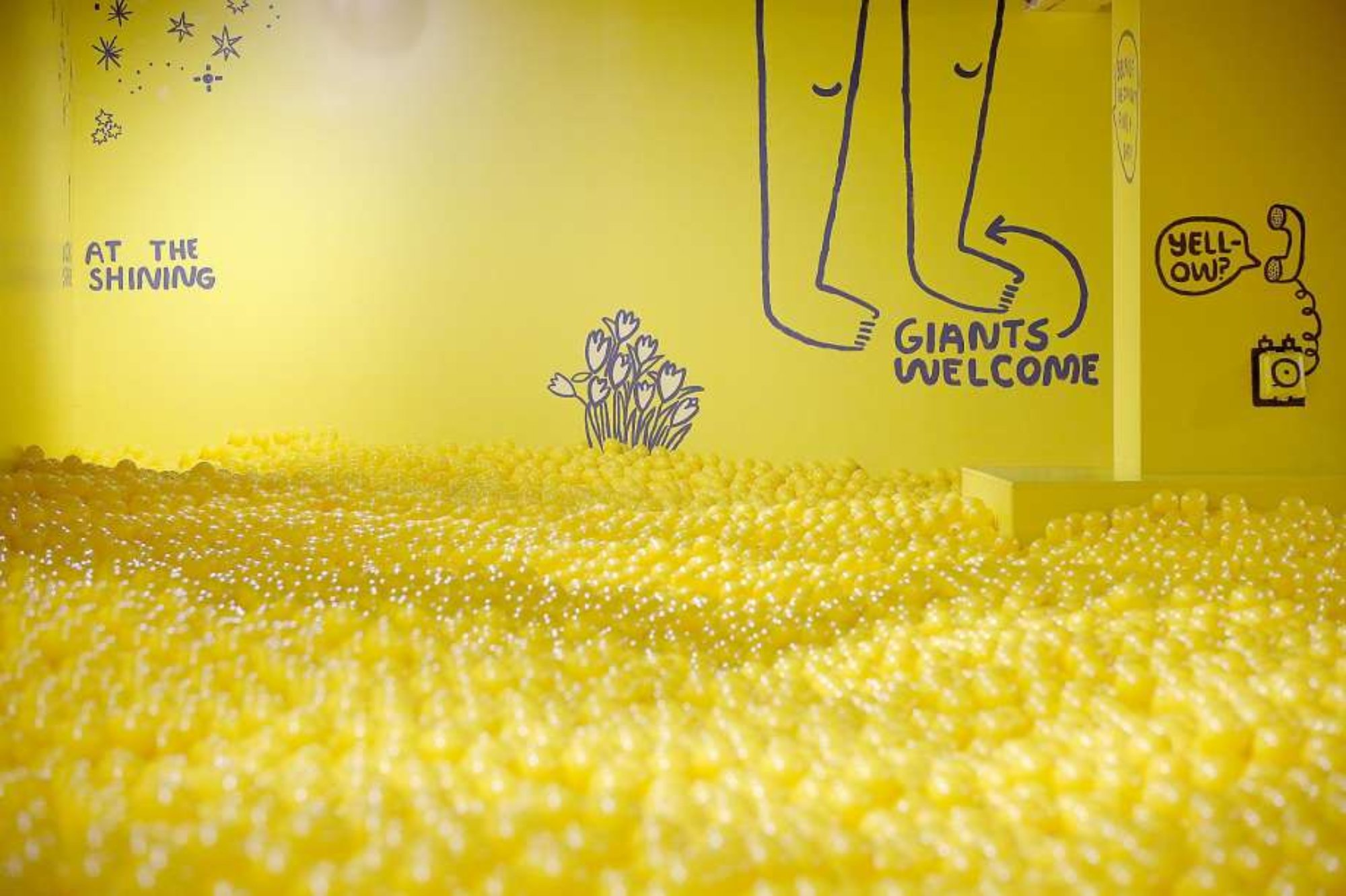 Slime. Astroturf. Broccoli. Dollar Bill. Forest. Absinthe. Pickle. Alligator. Cactus. Spinach.
Have you figured out what they all have in common? The color green.
Color Factory, a 12,000 sq. ft. exhibit in downtown San Francisco, will have you thinking and feeling in every color of the rainbow. The two-story space contains 15 exhibits starting with a scratch and sniff wall, a room-sized Lite-Bright, a giant yellow ball pit, and a blue balloon bath.
Each exhibit was created by a different artist or designer from around the world with a unique color story to tell. Designed to be interactive, Color Factory is essentially an art museum that allows visitors to touch the installations, draw on the walls, and generally goof off.
Jordan Ferney, Color Factory's creator and author of the popular and color-themed blog, Oh Happy Day, envisioned the space as a place for visitors to explore color as a sensory experience.
Describing her vision Ferney said, "It would be conceptual, [be] beautiful and photogenic, and be an experience you couldn't get anywhere else."
At Mahalo Digital we are driven by our passion for creativity and innovation. We aim to provide our clients with fresh inspiration and new designs on the regular. Color Factory appeals to us as a true reinvention of the way we see and experience the most basic tenant of design – color.
Color Factory is also setting trends when it comes to social media amplification. Strategically placed photo booths allow visitors to document and share their whole experience. There have been almost 10K posts on the Instagram hashtag #colorfactoryco and  @thecolorfactory has 71K followers.
Ferney and Color Factory are pushing the envelope of design. The intense focus on color opens up our eyes to its possibilities, its intricacies, and its extremes. Color Factory is an inspiring creative and visual undertaking and we give major kudos to the creator and design team for sharing it with us.
We love to be inspired by the work around us, and the innovation and creativity born in the Color Factory fuels us at Mahalo to continue the ground breaking work we do.
Tickets are hard to come by, but if you find yourself with a pair, run, don't walk, to Color Factory. Have you already been? Share your experience with us…in colorful detail!
photo via SF Chronicle